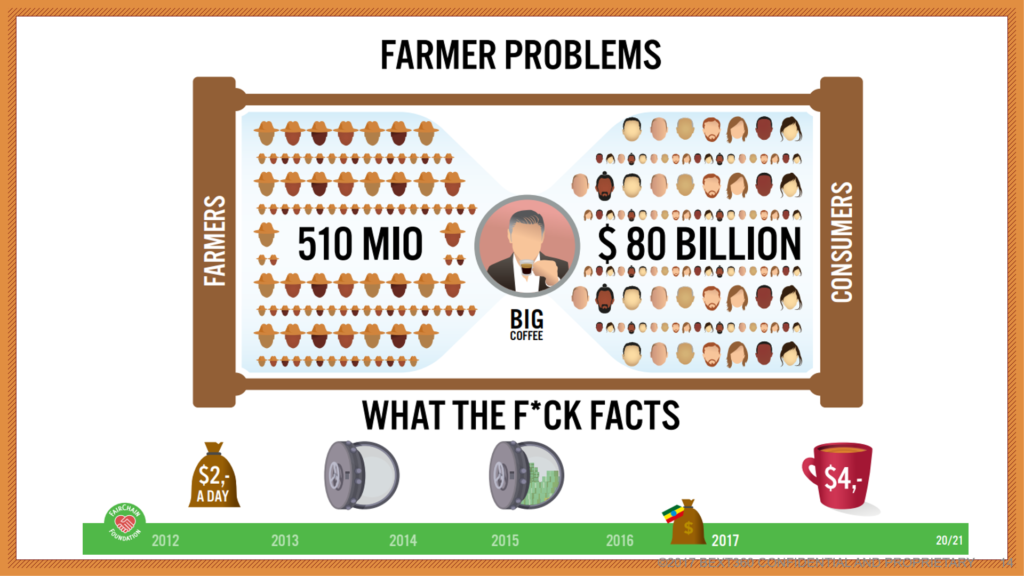 The CoffeeChain in a nutshell:
Millions of small farmers living at poverty levels, earning near zero on their crop, and no access to money for farm investments sell to 3 green bean traders and 5 BigCoffee multinationals that keep all the profit and can borrow unlimited amounts at 0% interest from national banks in the west… pretty unfair not?
FairChain movement was created to provoke change in value chains. Whether talking coffee or tea, hazelnuts or chocolate, too much value is being lost between the growers and you, the consumers. FairChain was founded to show and prove that in the 21st century, with all our tech savvy and know-how, there is a better, fairer way to do business.
Our Theory of Change
We'll get straight to the point, this is what we aim for:
"FairChain Farming means farmers and workers earn living incomes and wages by managing profitable farms and getting involved in value added activities, in order to improve livelihoods and communities."
Improving the lives of smallholder farmers means focusing on living income. Remember President Clinton when he said: "It's the economy, stupid?" Well, farmers can't enjoy a high quality of life if they don't produce enough food to earn a decent wage. It's the economy, stupid!
What is a living income?
"A living income means the net income a household would need to earn to enable all members of the household to afford a decent standard of living. Elements of a decent standard of living thereby include: food, water, housing, education, health care, transport, clothing, and other essential needs including provision for unexpected events."
Using BlockChain to create FairChain Coffee
We started with coffee, because global coffee production is notoriously complex and involves countless middlemen, each taking a piece of the pie along the way. Coffee farmers and producing economies are always on the short end of the stick. Currently, only 2% of the value of every cup of coffee ends up in the pockets of the coffee producers. This is because Big Coffee buys low and sells high. FairChain coffee buys high and sells fair. It's a completely different mindset that radically impacts the countless communities in which your coffee beans are grown.
Besides, coffee is a powerful place to start with positive change. As the second most valuable commodity in the developing world (oil is first), coffee's global value exceeds even that of gold. Which is to say, any shift towards the better, even if that shift can be measured in cents, has a profound effect.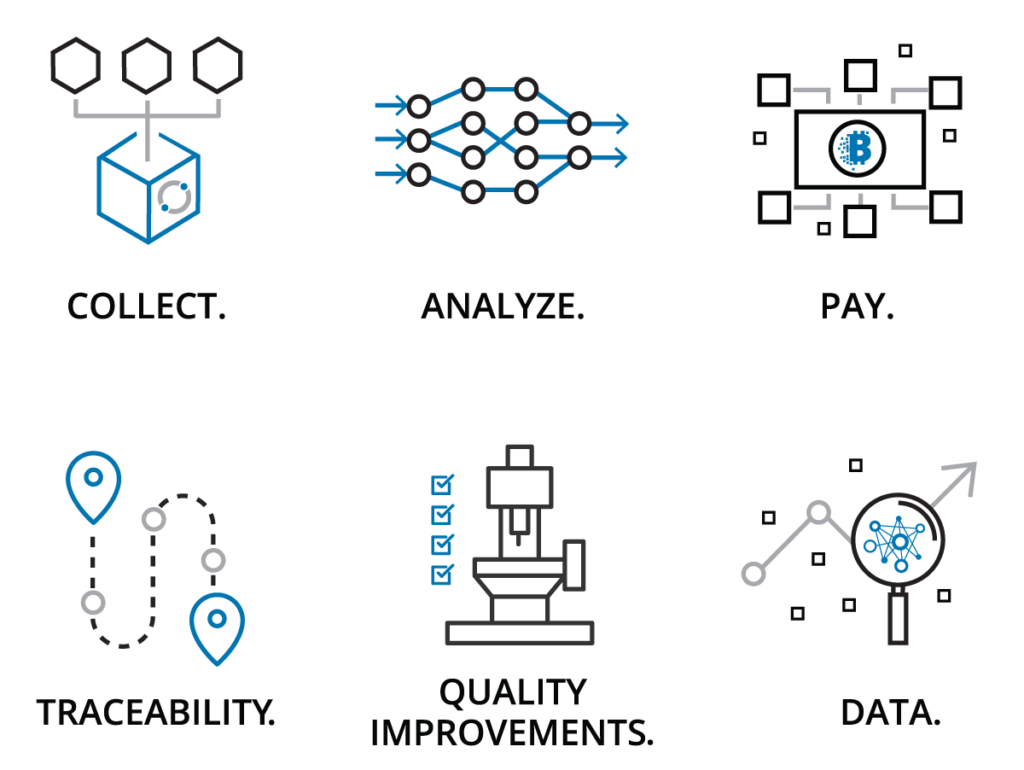 Blockchain promotes honesty and radical transparency, and connects our farmers and consumers like nothing ever before. Put lightly, blockchain has the potential to turn the global coffee industry on its head.
Which is why the FairChain Foundation is working with KrypC, a pioneering developer of technologies that streamlining critical supply chains in emerging economies. Our partnership with KrypC makes Moyee the first European coffee maker to introduce fully blockchain-traceable coffee.
How does Blockchain work? Click here. 
Moyee's FairChain coffee is roasted locally, in Addis Ababa, Ethiopia. For Ethiopians, this is entirely new. They've never been involved in the valued added side of the business. Our Addis Ababa roaster uses the latest western industrial technologies, but in Ethiopia and run by Ethiopians. Working together with leading universities in the Netherlands and Ethiopia, we're educating a new generation of Ethiopian smallholders, entrepreneurs and roasters on how to turn a profit with their most precious resource: coffee. The knowledge we share and the local supply chains we establish lead directly to higher living incomes, urban employment, industrialization, investments, and pure, net profits in Ethiopia. This isn't aid, but trade. Not pennies, but an entire ecosystem of value adding activities that will put more money in the pockets of Ethiopians.
FairChain x Blockchain
Blockchain-traceability is the missing link in our FairChain revolution. The collaboration between the FairChain Foundation and KrypC makes Moyee Coffee the first European coffee company to benefit from blockchain technology. Proving more than ever that coffee is capable of leading the way to a more honest, fairer society.
The KrypC blockchain platform gives all stakeholders – farmers, roasters, and consumers – to access data across the entirety of the supply chain. This data enables complete analysis of the supply chain to identify supply chain efficiencies. For consumers, KrypC provides unprecedented levels of transparency around origin and quality; and allowing, for the first time, a coffee drinker in Europe to pull up this data and verify exactly where her coffee was sourced.
At the point of collection, the KrypC platform instantaneously creates cryptotokens, which represents the value of the commodity. As the commodity flows through the entire supply chain, new tokens are automatically created. These tokens increase in value as the beans move through the supply chain. This step-by-step process makes the entire chain transparent, and makes sharing the value added easier.
It was KrypC's tokenization technology that attracted the FairChain Foundation in the first place. Currently patent-pending, this technology promises drastic reductions in the transaction costs of global commodities. KrypC's tokens can be used for inventory valuation and , and to streamline the certification processes by reducing paperwork and physical inspectors, which can cost up to €0.80 per a pound of coffee. The KrypC platform provides fully transparency and immutability, which can eliminate this costly part of the supply chain.
Blockchain literally connects you with our farmers. With blockchain, a notoriously opaque coffee industry suddenly has no more secrets.  And by getting rid of all the unnecessary middlemen, our farmers receive more money. It is beautifully wonderfully perfect.