Video: Cafédirect Made the Small Way
MASSIVE, ENORMOUS, GIGANTIC even. Only such words come close to the scale of Cafédirect's passion for what they do. While all those Big Coffee conglomerates (you know who you are, yes looking at you Nestlé skulking in that back corner of this lovely blog) are out there doing what they do best -getting bigger and bigger – Cafédirect has been GROWING -but not as you'd expect. Instead, they like to do things the small way. Their model of direct trade is based on developing genuine long-term relationships with 38 smallholder grower organizations in 13 countries across Latin America, Asia and Africa. Because Cafédirect understands that it is at the grassroots level, in the micro finances of each individual coffee farmer that real socio-economic impact can be realized.
And when we say long-term, we're talking authentic old-school. While the rest of us were swept up in the irresistible hype of Bananarama and Wham!, these guys were gearing up to take on a potential economic crisis by establishing the fair trade movement in the UK. That's right, Cafédirect was spawned in 1989 when the international coffee agreements collapsed, opening up the floor beneath small growers feet the world over. And just to be clear, these coffee agreements were for decades were the only thing standing in between the world's 25 million coffee farmers and desperate gaping poverty. So when the valiant superheroes at Cafédirect swept into the rescue by valiantly hawking lesser-known fair trade coffee in church halls and charity shops, they knew full well that their actions in their local communities would have ripple effects in equally small communities –EVERYWHERE.
And this is where the story of Cafédirect gets unashamedly big and bold. Since their small (yet immensely significant) beginnings, this handler of coffee, tea and cocoa has proudly gone above and beyond sustainability to prove that business can be a force for good, ensuring that their actions have a positive impact for people and the planet. They do this by cutting out the middlemen in the supply chain and paying their farmers higher wages and investing significantly more in local communities than the minimal fair trade requirements. They have also placed two growers on their board of directors and 75% of their growers are in fact shareholders in the company. By working together in true partnership with their growers, Cafédirect does more, much more.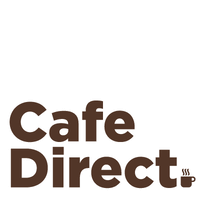 Because BIG can be done in a SMALL way. 
CHECK THEM OUT: www.cafedirect.co.uk